River Rafting

Get a Perfect Thrilling Experience of White Water River Rafting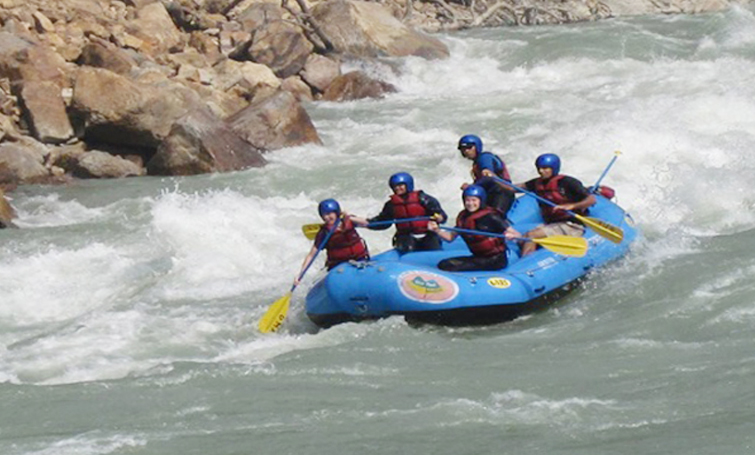 Rafting is known as one of the most competitive adventures activity in which the objective is to navigate downstream on river rapids using an excessive raft. It is considered as an extreme adventures activity which is highly challenging and risky and requires a great deal of teamwork. Rafting is also known as an extremely popular recreational activity practiced in most countries around the world, among which Rishikesh, is world-renowned as the River Rafting Capital of India. Here, the Ganga River provides plenty of crystal clear water and rapids all season long and the regular releases from different reservoirs maintain the river flow.

During rafting with us, the experience is not necessary, as we offer you the best equipment, supervision, and guide, and provides you with personalized, quality service so that you feel confident during your rafting trip. So rafting with us on the Ganga River is perfect for a newcomer, an outsider, and families. It's cool, wet fun for those hot summer days! Our rafts hold up to four or eight people, which makes rafting the perfect choice for groups and families. So take a day and discover an outdoor adventure activity. Our packages are designed to keep both the budget and your interest factors in mind. This activity is planned in such a way that there is an adventure as well as fun and a great holiday experience.

If you have any doubts or questions about rafting and packages, you can send us your queries on our mentioned email id: voyageenhimalaya@gmail.com or call us now on: +91- 9897171422.for quick & easy booking or visit us today to get started on planning the ultimate rafting trip. We will make sure that the experience is memorable, fun and most importantly, safe.
---
I- Brahmpuri to Rishikesh
The shortest river rafting or beginning rafting is from Brahmpuri to Rishikesh. Keeping your safety in mind, we provide you helmets, wetsuits, PFD (Personal Floating Device - Life Jacket) and other important equipment. This 9 km river rafting is the best stretch for beginners of every age group between 14 years to 65 years.
You will be astonished by seven rapids like Double Trouble, Hilton and Sweet 16 which will eliminate your fear.
In This Package:
River Rafting: 9 Km.
Food: No
Snacks/Tea: No
Transportation: From Office to Brahmpuri Rafting Point.
Cliff Jumping: Yes
Body Surfing: Yes
Swimming: Yes
Duration: 2 Hours 30 Minutes
Time: Morning 9:00am to 2:00pm
Book Now
II- Shivpuri to Rishikesh
If you want Best River Rafting in Rishikesh, then Shivpuri to Rishikesh is the optimum choice. It is one of the best River Rafting stretches in Rishikesh, India. This 16 Km stretch covers many thrilling rapids including Return to Sender, Roller Coaster, Golf Course, Double Trouble and Hilton which fill your trip with lots of fun and adventure. Young age group mainly prefers this rafting stretch.
In This Package:
River Rafting: 16 Km. Food: No Snacks/Tea: Yes Transportation: From Office to Shivpuri Rafting Point Cliff Jumping: Yes Body Surfing: Yes
Swimming: Yes
Duration: 3 Hours 30 Minutes Time: Morning 9:00am to Evening 2:00pm
Book Now
III- Marine Drive to Rishikesh
Marine drive to Rishikesh River Rafting is quite challenging and delightful for adventure lovers. The rapids in this 25 km stretch are almost same as Shivpuri, only a few stable rapids are also present. Fun, Joy and Enjoyment: This is the complete package of all.
In This Package:
River Rafting: 26 Km.
Food: No
Snacks/Tea: Yes
Transportation: From Office to Marine Drive Rafting Point
Cliff Jumping: Yes
Body Surfing: Yes
Swimming: Yes
Duration: 5 Hours
Time: Morning 9:00am to Evening 12:00pm
Book Now
---
Something Extra:
We also arrange Rafting expeditions from Rudraprayag, Devprayag, Srinagar etc.
What to bring with you:
We are suggesting some things to bring with you such as River/sand sandal, Sun Glasses, Sun Lotion, Personal Toiletry, T-shirt & Shorts.
Something About Us:
Voyage en Himalaya is a professionally managed organization that has immense experience in providing authentic Rafting services. We timely arrange the rafting class to minimize any kind of calamity under the trained experts. We also bring modern equipment that makes your rafting more convenient and pleasant. Reliability and authenticity are some salient features of our rafting services.